Stevia Leaf Extract Powder/ Steviosides
DESCRIPTION OF Stevia Leaf Extract Powder:
Stevia Rebaudiana is used as herbal sweetener by Paraguay people for over 1500 years. The sweetness in Stevia Rebaudiana is mainly attributed to two glycoside compounds: Stevioside (3-10% of dry leaf weight) and rebaudioside A (1-3%) which can be up to 250 times sweeter than sucrose. Stevia`s greatest appears to be a natural alternative to artificial sweeteners (such as aspartame or sodium saccharin). Stevioside is white or light yellow powder or crystalline in normal room temperature. It has pure sweetness, no odor and its taste is similar to sucrose but its aftertaste lasts longer than sucrose. It contains only one third calorie of sucrose. It is non alcoholic solution, low toxicity and wide range of application. It is called the third natural sugar source after cane sugar and beet sugar. Stevioside in the human body does not participate in the physiological, biochemical reaction, but also has a certain degree of inhibition of bacterial and antiseptic effect, good security.
Product Description:
Product name:Stevia Leaf Extract Powder
Botanical name :Stevia Rebaudiana
Plant parts used: Leaf
Principal Constituents:total Steviosides 90.0%
Tested Parameters:Specifications
A. Physical Parameters
1. Appearance:Fine Powder
2. Color:White Powder
3. Odour & Taste:Characteristic & Taste
4. Loss on drying(105°C NMT 6.0%w/w
5. Ash:NMT 1.0%
6. PH (1% solution):5.5-7.0
7. Sweetness times: 200~300
8. Specific Optical Rotation:-30°~-38°
9. Specific Absorbance:NMT 0.05%
B. Chemical Parameters
1. Heavy Metal: NMT 10ppm
2. Active ingredient - Assay
Total Steviosides By HPLC
Up to 90%w/w (% dry basis)
C. Microbiological Tests
1. Total Aerobic Plate Count:NMT 1000Cfu/gm
2. Total Yeast & Mold:NMT 100Cfu/gm
3. E. coli :Absent
4. Salmonella:Absent
5. S. aureus:Absent
Additional Information:
Delivery Time 7-10 days after PO
Packaging Details Outer Packing HDPE Blue carboys drum with net packing 5 kg/ 25 kg Inner
Function of Stevia Leaf Extract Powder:
1. To replace sugar in food, to improve taste and cut down the cost, low calories
2. To prevent such illnesses as hypertension, diabetes, obesity, heart disease and carious teeth
3. To lower blood pressure and sedative effect
4. To add stevia to your mouthwash or toothpaste results in improved oral health
5. To help prevent minor illness and cure minor wounds

Application of Stevia Leaf Extract Powder
1. Applied in the food field, mainly used as a non-calorie food sweetener
2. Applied in other products, such as beverage, liquor, meat, daily products and so on
3. Applied in pharmaceutical field, approved to use in medicine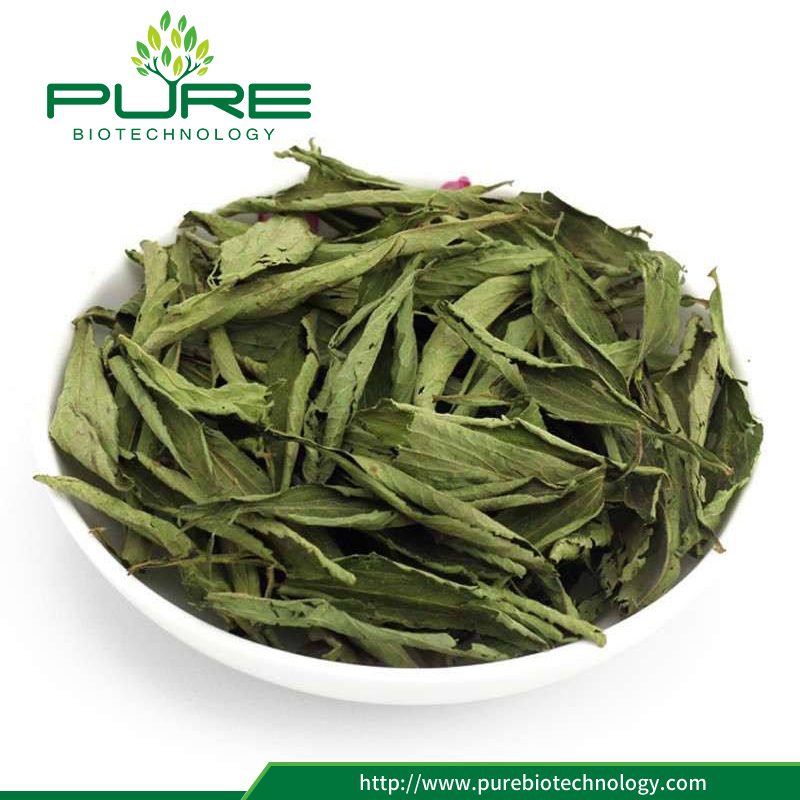 Ningxia Pure Biology Technology Co.,Ltd (PURE Biotechnology) provides a brand-new way for the development and utilization of natural biological activity substances,We provides natural Stevia Leaves Extract Powder.Excellent water-soluble can be guaranteed.And the Stevia Leaves Extrat Powder we have is without any preservatives and additives,its characteristics consist of the high purity and excellent product quality.
Looking for ideal Stevia Leaf Extract Powder Manufacturer & supplier ? We have a wide selection at great prices to help you get creative. All the Steviosides Leaf Powder are quality guaranteed. We are China Origin Factory of Stevia Rebaudiana Powder. If you have any question, please feel free to contact us.
Product Categories : Herbal Extract and Powder > Stevia Leaves Extract