Dried Schisandra berries fruit Medicinal Herbs
Dried Schisandra berries fruit is a traditional Chinese Herbal Medicine, we have the South and north Schisandra, Schisandra mainly grow in Chinese Hebei, Ningxia, Gansu, Shandong province. Schizandra Berry are mature in every August and September, will picked, sun dried or machine dried, remove fruit stems and sell.
The Chinese say the Schizandra berry can "calm the herat and quiet the spirit."Traditional Chinese medicine has used the Schisandra Berry for 5000 years to strengthen the lungs and kidneys,fight depression and increase energy levels.Schizandra berries can pep you up or calm you down.Schisandra is an "adaptogenic" herb.In other words,it doesn't matter whether you're too sleepy ro too nervous;either way,echizandra will redirect you from an extreme to an ideal,balanced state.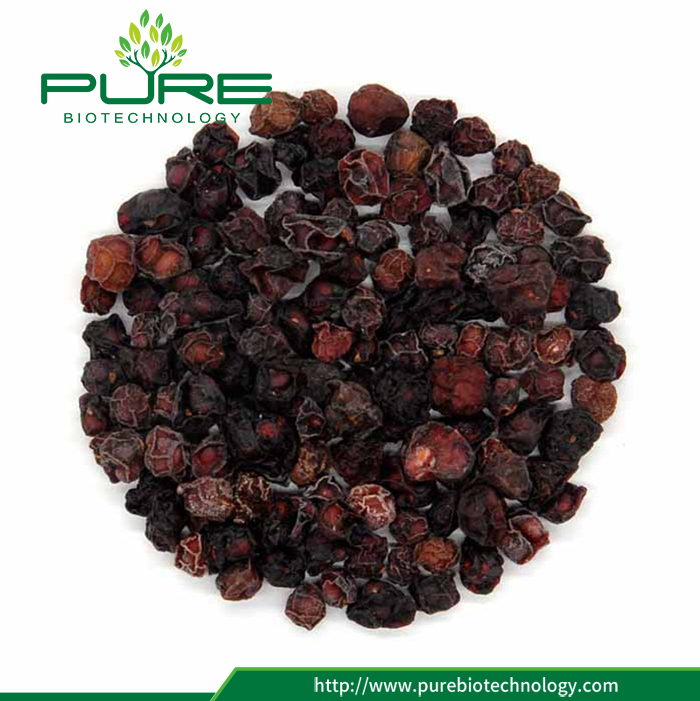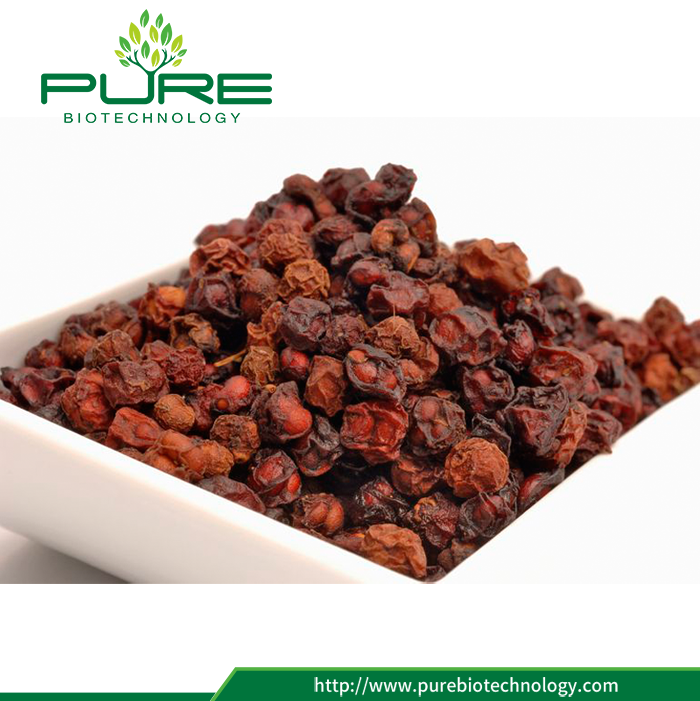 Name: schisandra chinensis berries, wu wei zi
Appearance colorful :aroma refreshing, fresh
Taste: Herbal medicine
Place of origin: China, Liaoning
Infusion color: red brown
Ingredients: for medicine,schisandra chinensis berry tea, schisandra chinensis herbal tea
Packing: plastic container, 20KG/Carton or 50kg/bags
What`s Schisandra benefits?
Schisandra chinensis enjoys millennia of traditional use for prolong life, retarding the aging process, increasing energy, as a fatigue-fighter, and as a sexual tonic. Schisandra also possesses significant protective antioxidant and anti-inflammatory activity. Thus it helps to maintain healthy cells throughout the body. It is considered one of the most highly protective of all medicinal plants, and the berry is included in many traditional herbal formulas for improving energy and mental health.
Schisandra berry demonstrates significant adaptogenic activity. What does this mean? To qualify as an adaptogen, an herb must be completely safe and non-toxic, it must have broad uses for health, and it must specifically reduce stress, both mental and physical. As an adaptogen, Schisandra is a potent general tonic, decreasing fatigue, enhancing physical performance, and promoting endurance. The berry counters stress by reducing the levels of stress hormones in the blood. Additionally, Schisandra offers great benefits for athletes. In human studies Schisandra berry and its extracts have improved performance among long distance runners, skiers and gymnasts. For this reason Schisandra berry is often found on the training tables of Chinese
athletes.
Schisandra tea also offers special benefits for the mind. Several human studies show that
Schisandra Extract
improves concentration, coordination and endurance. Schisandra tea helps to prevent mental fatigue and increases accuracy and quality of work. In various human clinical studies with doctors, students, soldiers and other groups, Schisandra demonstrated superior mind-sharpening powers.
As if all these benefits were insufficient, Schisandra also offers first-rate liver-protective benefits. Schisandra helps in the treatment of hepatitis, as noted in over 500 cases. In fact, an antihepatitis drug was developed from Schizadrin C.
Schisandra has been used in Traditional Chinese Medicine for over 2,000 years. Despite this long history, Schisandra is still relatively unknown in the U.S. market. But due to its age-old use for enhancing vitality and its strong science base, Schisandra and its preparations should get a good market boost in the years ahead. Once people experience the mental and physical benefits of this super berry, they will want it as part of their health regimen.
You can find Schisandra in a couple of forms. In Chinese groceries and medicine shops, you can find dried Schisandra berries. Just a few dried berries daily will impart the benefits described there. Or, you can also find Schisandra supplements. Look for ones that are standardized to the schizandrins, which are active compounds.
Like so many botanicals, Schisandra can make a difference in your health that you feel. And the feeling is good indeed.
Application of the Schisandra chinensis:
1. In Food field, The chinese herbal medicine dried schisandra is used as food additives to make herbal tea, soups, seasoner and beverages.
2.In Pharmaceutical Field. The chinese herbal medicine dried schisandra is used for Chinese herbal medicine.
3. Applied in beauty products, The chinese herbal medicine dried schisandra can be made into medicinal tea.
4. This chinese herbal medicine is also used for the dried schisandra Extract, dried schisandra P.E.

Ningxia Pure Biology Technology Co., Ltd. (PURE Biotechnology) was established since 2009, is a Chinese company based on Goji series products. We manufacture, develop, research, and market Goji Berry product. Today PURE Goji Biotechnology expand products to Chinese Raw Herbs , Nature Herbal Extract and Powder and Organic Products, aimto provide the MOST QUALITY, PURE NATURAL and CERTIFIED ORGANIC Products for beneficial to humans health.
PURE Biotechnology consolidate the industry, establishing relationships, ensuring consistent supply and drawing attention. Quality is the principal business, it has controlled throughout the production process, from raw materials to finished products.
Ningxia Pure Biology Technology Co.,Ltd (PURE Biotechnology) is located in Ningxia,China.we committed provides high quality Dried South Schisandra Chinennsis with nice alimentation,we can also made customized packing according to clients' requirements.We devote ourself to developing a complete Chinese herb line in order to make contribution to mankind health by developing Chinese herbal industry.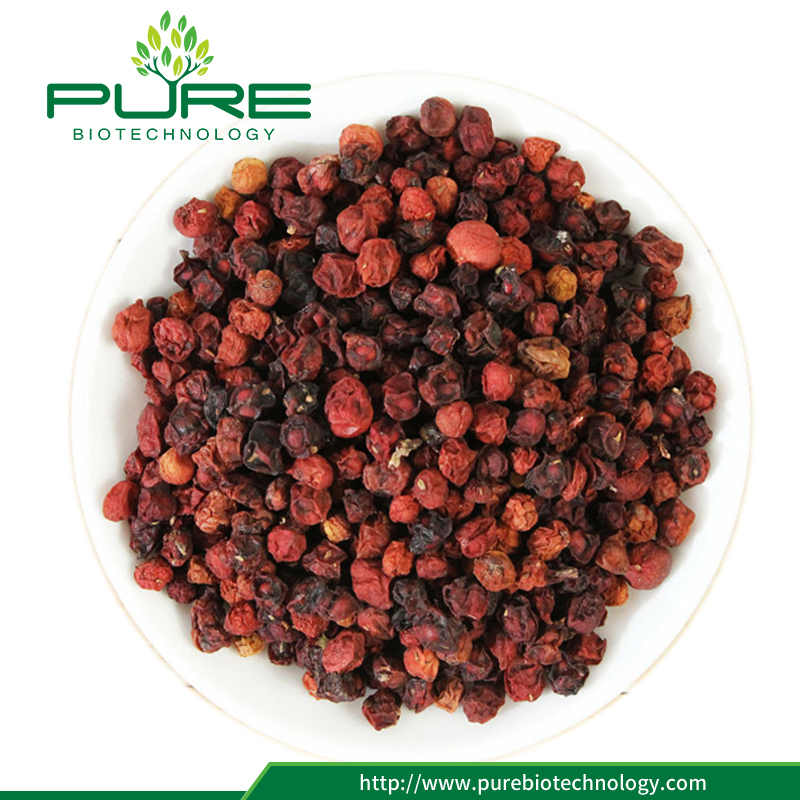 Looking for ideal Dried Schisandra Berries Fruit Manufacturer & supplier ? We have a wide selection at great prices to help you get creative. All the Schisandra Chinensis Berry are quality guaranteed. We are China Origin Factory of
Schisandra Fruit
Medicinal Herbs. If you have any question, please feel free to contact us.
Product Categories : Chinese Herbs > Schisandra