New Crop Organic Red Dates/Top Quality Organic Jujube
New Crop Organic Red Dates is grows mostly in South and East Asia, as China. Mounting evidence shows the health benefits of Z. jujuba, including anticancer, anti-inflammation, antiobesity, antioxidant, and hepato- and gastrointestinal protective properties, which are due to its bioactive compounds.

New Crop Organic Red Dates are red inside and out, with a crispy texture, edible skin, and a sweet-tart, apple-like flavor. When ripe, they can be stored at room temperature for about a week.Ziziphus jujuba Chinese varieties can be used to substitute dates or apples in recipes. Just peel the fruit and remove the single seed inside. Jujubes can also be pickled whole or used to make tea.The freshly harvested, as well as the candied dried fruits, are often eaten as a snack, or with coffee. China produce a sweetened tea syrup containing jujube fruit in glass jars, and canned jujube tea or jujube tea in the form of teabags.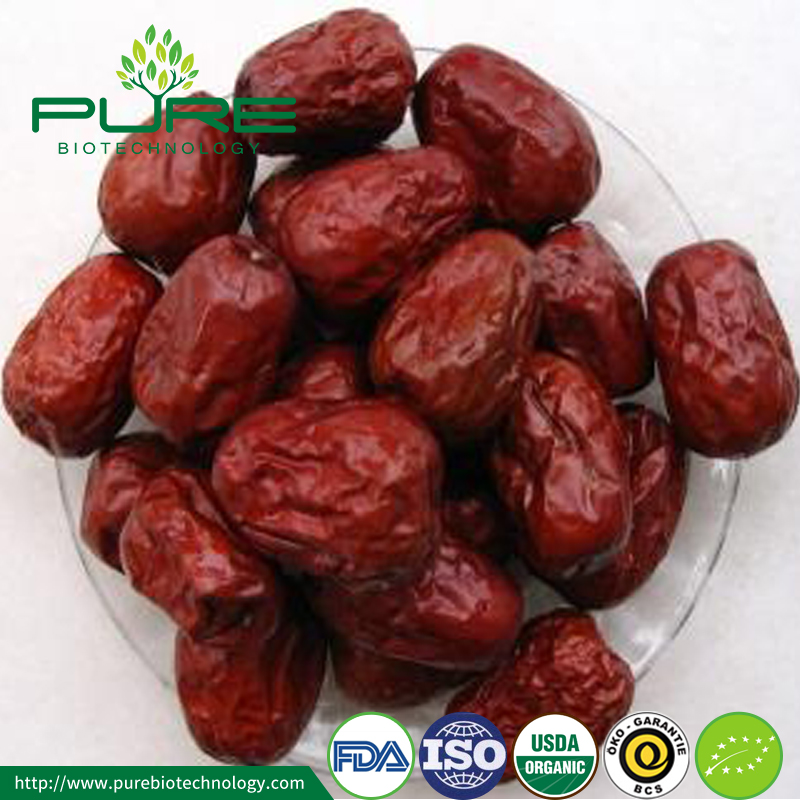 Name: Red date, Jujube
Quality: New Crop, Certified Organic
With seeds, no seeds, slice as your request
Nutrient ingredients: Chinese gelatine red jujube are quite rich in Protein, Calcium, Vitamin C,
Iron which are highly demanded by human body.
Character: Superior quality, equal size, dark red, tastes juicy and sweet.
Origin: Origin from China China which is the best place for plant jujube in the world, where there is Plenty of sunshine & pure mountain water.
Functions: Nourish blood for women; Maintain beauty and keep young; Anti-cancer;
Improving muscular strength and weight; Improve the body's immune function; Prevent liverdiseases; Soothe the nerves; Anti-allergy.
Uses: Chinese red jujube can be used as fruit, snack, Chinese traditional medicine, also can be used to make soup, breads, cake, candy, compote and jam.
Sayings: Eating three jujube everyday you will always stay young; Chinese jujube is regarded as the Kind of Fruit.
Packing: 10kg-50/Carton or as you like
Storage: In cool and dried place, can keep 24 month.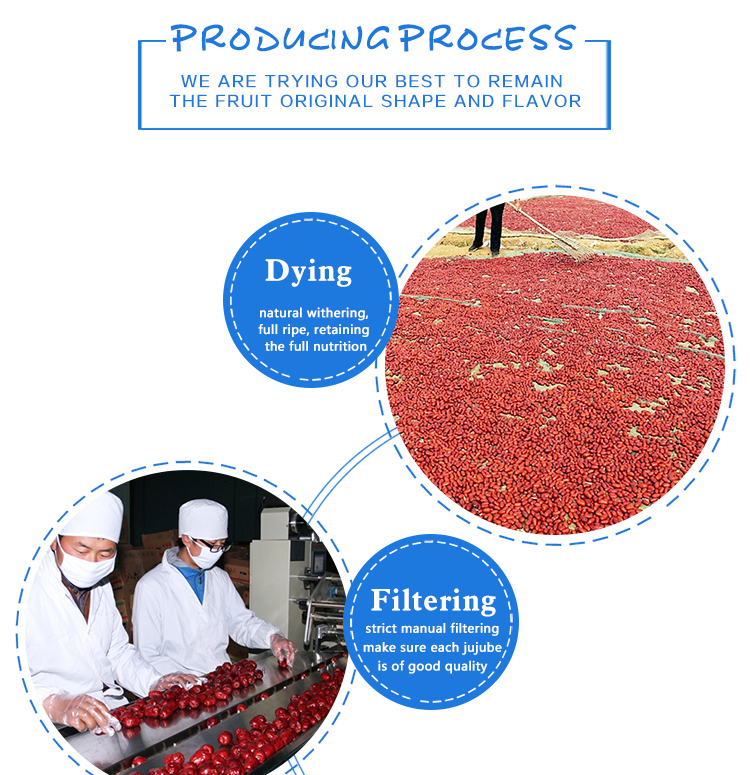 Health Benefits of

New Crop Organic Red Dates:
1. Ziziphus jujuba Chinese can be as a tea for sore throat
2. Ziziphus jujuba Chinese fruits and extracts have the capacity help lower blood pressure, reverse liver disease, treat anemia, and inhibit the growth of tumor cells that can lead to leukemia. Jujube extracts are also used in skin care products used to diminish wrinkles, relieve dry skin, and treat sunburn pain.
3. The free radical-scavenging phenol puerarin in jujubes helps keep your cholesterol levels in the normal range and decrease your risk of cardiovascular disease. The flavonoid apigenin (also found in chamomile, thyme, and red wine) contains antioxidants as well as anti-inflammatory and anti-tumor properties, helping to reduce therisk of cancer and positively impact the liver, digestion, and allergies.
4. Ziziphus jujuba Chinese are also loaded with 18 of the most important amino acids, which aids in the formation of more than 50,000 proteins in the body, one of which triggers the wound-healing process.
5. Ziziphus jujuba Chinese varieties can be used to substitute dates or apples in recipes. Just peel the fruit and remove the single seed inside. Jujubes can also be pickled whole or used to make tea.
How to enjoy

New Crop Organic Red Dates

:
1) Red Jujube Tea:
Take some jujuba slices into a cup or teapot with boiling water and soak for 5-10 minutes,drinking on an empty stomach before meals,three times a day.Due to personal circumstances can also add a small amount of honey to improve taste.Drinking red jujube tea plays an important role for beauty and healthcare.
2) Red Jujube + Milk:
Red jujube with grinding machine into powder and mix with milk,the mixture of milk an red jujube is nutritious and healthy.This fragrant and nutritious drink is the best choice for health breakfast.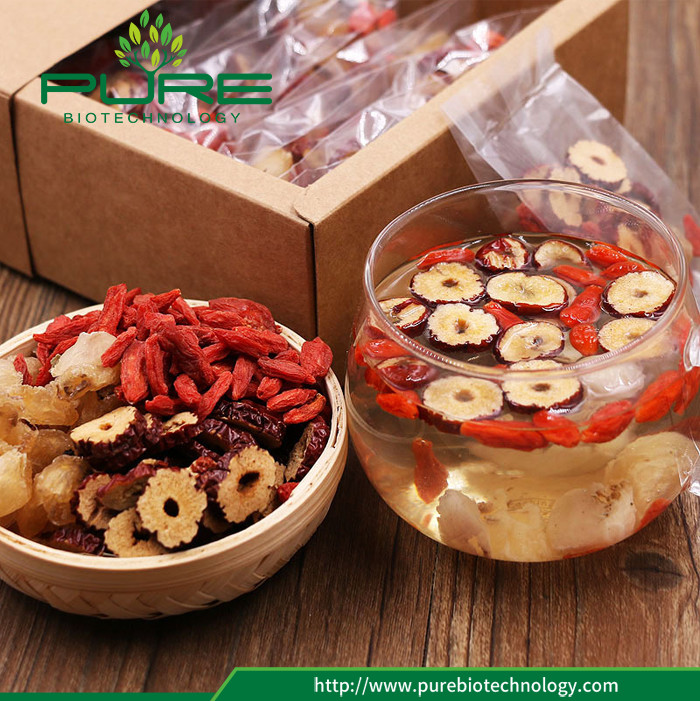 Ningxia Pure Biology Technology Co.,Ltd (PURE Biotechnology) is located in Ningxia,China.we committed provides high quality Dried Red Ziziphus Jujuba Slices with nice alimentation,we can also made customized packing according to clients' requirements.We devote ourself to developing a complete Chinese herb and superfoods line in order to make contribution to mankind health by developing Chinese herbal industry.
Looking for ideal Top Quality Organic Jujube Manufacturer & supplier ? We have a wide selection at great prices to help you get creative. All the New Crop Organic Red Dates are quality guaranteed. We are China Origin Factory of Organic Superfoods Date. If you have any question, please feel free to contact us.
Product Categories : Organic Food Ingredients > Organic Red Jujube