What Are Jujubes Good For?
Pure herb jujube /Red Dates fruit are a very interesting fruit with an even more interesting history, they've been cultivated in China for more than 4,000years. There are at least 400 jujube varieties, successfully developed for their distinctive characteristics - principally varieties best for eating fresh and others for drying to attain a chewy, date-like consistency. While jujube trees are extremely hardy and can flourish in even extreme temperatures with as little as eight inches of rainfall a year, they prefer sunny over shady areas.
Sometimes called Pure herb jujube, Red jujube candy or Jujube fruit Chinese, red jujubes come from deciduous and relatively small trees. Jujube trees grow at around 40 feet with shiny green leaves, modest-looking blossoms, and grape-to-strawberry-sized fruits containing a single large seed in the center. This makes them drupes.
Red Jujubes are red inside and out, with a crispy texture, edible skin, and a sweet-tart, apple-like flavor. When ripe, they can be stored at room temperature for about a week.
Red Jujubes weren't much of a hit when introduced in the States in the late 1800s because they tried propagating a variety meant for drying. Not until the 1990s was the first truly tasty jujube variety imported into the U.S. by a private individual, and two more in 2007.
The best fresh jujube varieties to look for include Sugar Cane, Li, Sherwood, Chico, and Honey Jar (the latter reportedly the smallest and juiciest). The best drying varieties are Lang and Shanxi Li.
Dried Jujube varieties can be used to substitute dates or apples in recipes. Just peel the fruit and remove the single seed inside. Jujubes can also be pickled whole or used to make tea.
The freshly harvested, as well as the candied dried fruits, are often eaten as a snack, or with coffee. China produce a sweetened tea syrup containing jujube fruit in glass jars, and canned jujube tea or jujube tea in the form of teabags. To a lesser extent, jujube fruit is made into juice and jujube vinegar (called Zao cu in Chinese). They are used for making pickles in west Bengal and Bangladesh. In China, a wine made from jujube fruit is called hong zao jiu .
Sometimes pieces of jujube fruit are preserved by storing them in a jar filled with baijiu (Chinese liquor), which allows them to be kept fresh for a long time, especially through the winter. Such jujubes are called jiu zao , literally "alcohol jujube"). The fruit is also a significant ingredient in a wide variety of Chinese delicacies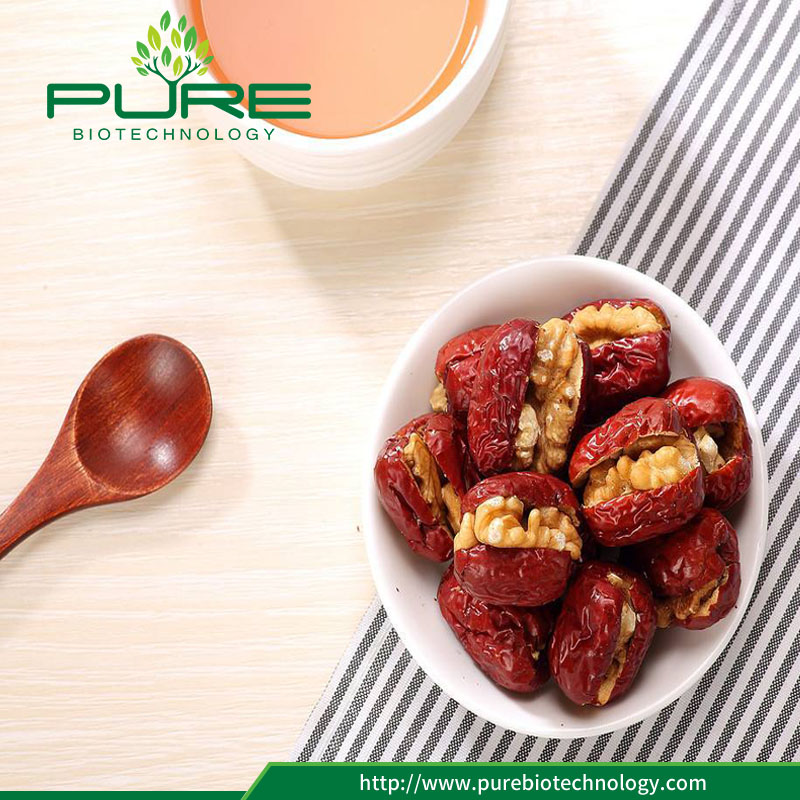 Health Benefits of
Jujube fruit Chinese
1. Jujube fruit Chinese can be as a tea for sore throat
2. Jujube fruit Chinese fruits and extracts have the capacity help lower blood pressure, reverse liver disease, treat anemia, and inhibit the growth of tumor cells that can lead to leukemia. Jujube extracts are also used in skin care products used to diminish wrinkles, relieve dry skin, and treat sunburn pain.
3. The free radical-scavenging phenol puerarin in jujubes helps keep your cholesterol levels in the normal range and decrease your risk of cardiovascular disease. The flavonoid apigenin (also found in chamomile, thyme, and red wine) contains antioxidants as well as anti-inflammatory and anti-tumor properties, helping to reduce therisk of cancer and positively impact the liver, digestion, and allergies.
4. Jujube fruit Chinese are also loaded with 18 of the most important amino acids, which aids in the formation of more than 50,000 proteins in the body, one of which triggers the wound-healing process.
5. Jujube fruit Chinese varieties can be used to substitute dates or apples in recipes. Just peel the fruit and remove the single seed inside. Jujubes can also be pickled whole or used to make tea.
Red Jujubes Nutrition Facts

Serving Size: 3.5 ounces (100 grams), dried

Amt. Per
Serving

% Daily
Value*

Calories

287

Calories from Fat

9

Total Fat

1 g

2%

Saturated Fat

0 g

0%

Trans Fat

Cholesterol

0 mg

0%

Sodium

9 mg

0%

Total Carbohydrates

74 g

25%

Dietary Fiber

0%

Sugar

Protein

4 g

Vitamin A0%

Vitamin C

22%

Calcium8%

Iron

10%
*Percent Daily Values are based on a 2,000 calorie diet. Your daily values may be higher or lower depending on your calorie needs.
Who we are?
Ningxia Pure Biology Technology Co., Ltd. (PURE Biotechnology) was established since 2009, is a Chinese company based on Goji series products. We manufacture, develop, research, and market Goji Berry product. Today PURE Goji Biotechnology expand products to Chinese Raw Herbs, Nature Herbal Extract and Powder and Organic Products, aimto provide the MOST QUALITY, PURE NATURAL and CERTIFIED ORGANIC Products for beneficial to humans health.

PURE Biotechnology consolidate the industry, establishing relationships, ensuring consistent supply and drawing attention. Quality is the principal business, it has controlled throughout the production process, from raw materials to finished products.

As our business expands, we also looking for and import high quality products all over the world, especially import the health food from the Belt and Road Initiative countries.

Eat Pure, Use Pure, Live Pure.
Looking for ideal Pure Herb Jujube Manufacturer & supplier ? We have a wide selection at great prices to help you get creative. All the Red Jujube Candy are quality guaranteed. We are China Origin Factory of Jujube Fruit Chinese. If you have any question, please feel free to contact us.
Product Categories : Organic Food Ingredients > Organic Red Jujube