Our Spirulina is 100% organic and a highly nutritious micro salt water plant. It was discovered in South American and Africa in Organic alkaline lakes. This spiral shaped algae is a rich food source. For a long time (centuries) this algae has constituted a significant part of the diet of many communities. Since the 1970's, Spirulina has been well known and widely used as a dietary supplement in some countries.
Organic Spirulina contains rich vegetable protein (60~ 63 %, 3~4 times higher than fish or beef ), multi Vitamins (Vitamin B 12 is 3~4 times higher than animal liver), which is particularly lacking in a vegetarian diet. It contains a wide range of minerals (including Iron, Potassium, Magnesium Sodium, Phosphorus, Calcium etc.), a high volume of Beta- carotene which protects cells (5 time more than carrots, 40 time more than spinach), high volumes of gamma-Linolein acid (which can reduce cholesterol and prevent heart disease). Further, Spirulina contains Phycocyanin which can only be found in Spirulina.


How does Spirulina grow?
There are four major conditions for growing Spirulina.
Tropical weather
Strong sunshine
Pure water resource
Pollution free environment
It is not possible to grow Commercial Spirulina culture in a cold or temperate area. Spirulina needs consistent high temperature which helps it`s growth. Spirulina will not grow anywhere that has constant low temperature (under 25 degrees). Under 20c degrees Spirulina will stop reproducing and die in a short time.
Spirulina absorbs sunshine and then creates a reaction in it's cells. When this reaction starts, Spirulina will produce the nutrients in the cell and will convert carbon dioxide into oxygen. Strong sunshine helps
With over 100 nutrients, Spirulina is often described as the most complete food source in the world. The American National Aeronautical and Space Agency includes it in their astronauts diet and plans to grow Spirulina in it`s space station. It`s easy to see why.
Japan has some good examples of some Japanese seniors who have only relied on Spirulina and water for more than 20 years showing how good is Spirulina for the human body.
How should organic Spirulina powder be stored?
High temperature, moisture or pollution will reduce the beneficial effects of Spirulina powder.
After usage , ensure you reseal the packing as soon as possible.
Keep the product away from any possible heat source.
Keep the product away from sun or any exposure to strong light.
Who should take organic Spirulina powder?
Children who don`t like or get enough vegetables and or have an imbalanced food intake.
Teenagers during their rapid growing period need a sufficient injection of nutrients. Spirulina is ideal for this.
Pregnant mums who need extra nutrients.
Seniors who have difficulty in having reasonable average 3 meals per day.
Sport lovers or athletics who need extra nutrients to keep their energy levels up.
Modern busy people who don't have the time to eat good meals.
Patients or people who need high volumes of nutrients to assist recovery (please consult your doctor)
Vegetarians who require extra nutrient sources
Who shouldn't take too much Spirulina?
People with hyperparathyroidism
People who have serious allergies to seafood or seaweed.
Patients current experiencing high fever.
How should Spirulina be taken?
Take only with cold or warm water, (not juice, soft drinks, coffee or tea)
After taking Spirulina, avoid alcohol, soft drinks or coffee for 30 minutes as these drinks can destroy some of the Spirulina nutrients and enzymes
Take at least an extra half litre of water a day
It doesn't matter if you take it once a day or twice a day, so long as you take enough for a day.
Organic Spirulina powder Vegetable protein vs animal protein?
Spirulina contains more than 60% vegetable protein, which is much higher than fish, pork, or beef (which contains about 15 ~20 %).Animal protein is a much bigger molecule than vegetable protein, and is much harder to for our system to digest.
Most modern people overindulge in animal protein, by eating fish, beef, pork etc. When too much animal protein is eaten, it is deposited in our body as fat. Too much fat will cause high cholesterol levels and may impact our heart and blood vessels.
Vegetable protein is water soluble, and is much smaller than animal protein. If you eat too much vegetable protein, it is simply discharged by your system as waste and not stored as fat.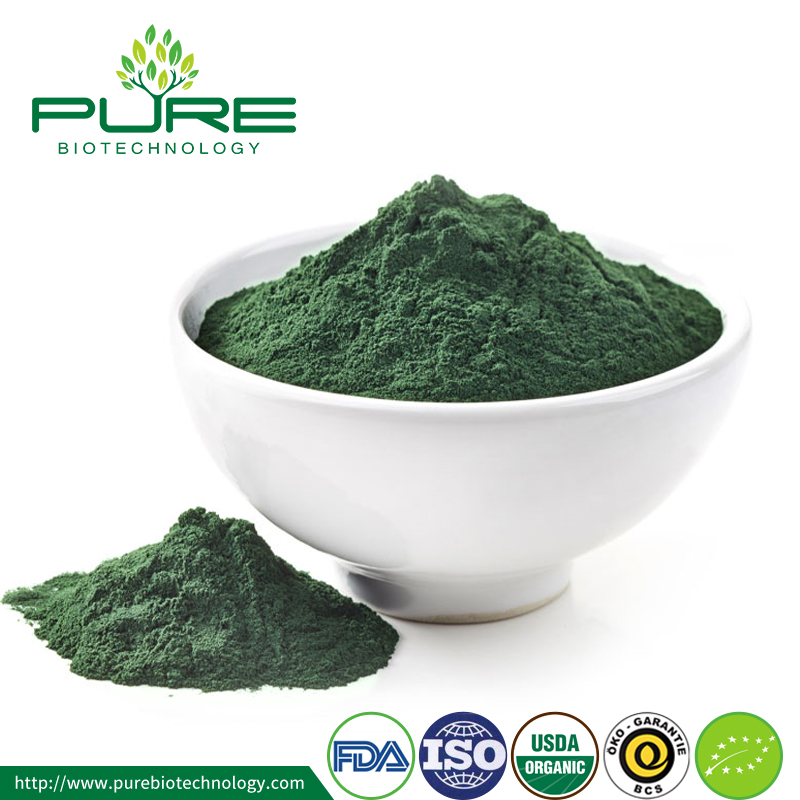 Looking for ideal Best Price Organic Spirulina Powder Manufacturer & supplier ? We have a wide selection at great prices to help you get creative. All the Animals Feed Organic Spirulina Powder are quality guaranteed. We are China Origin Factory of Feed Organic Spirulina Powder. If you have any question, please feel free to contact us.
Product Categories : Organic Food Ingredients > Organic Spirulina Powder