Organic Sea Buckthorn juice is made by pressing the wild, edible orange berries of the Hippophae rhamnoides plant, a deciduous shrub that grows wild on sea cliffs and dunes in Europe and Asia. Sea Buckthorn berries (also known as seaberries) and the juice extracted from them have high nutritional value, and both have been used by folk healers and herbalists to treat a wide range of health problems, from cough and digestive problems to impaired blood circulation and chronic pain. In recent years, the purported health benefits of sea buckthorn berries have undergone increasingly rigorous scientific evaluation, and the results have been promising.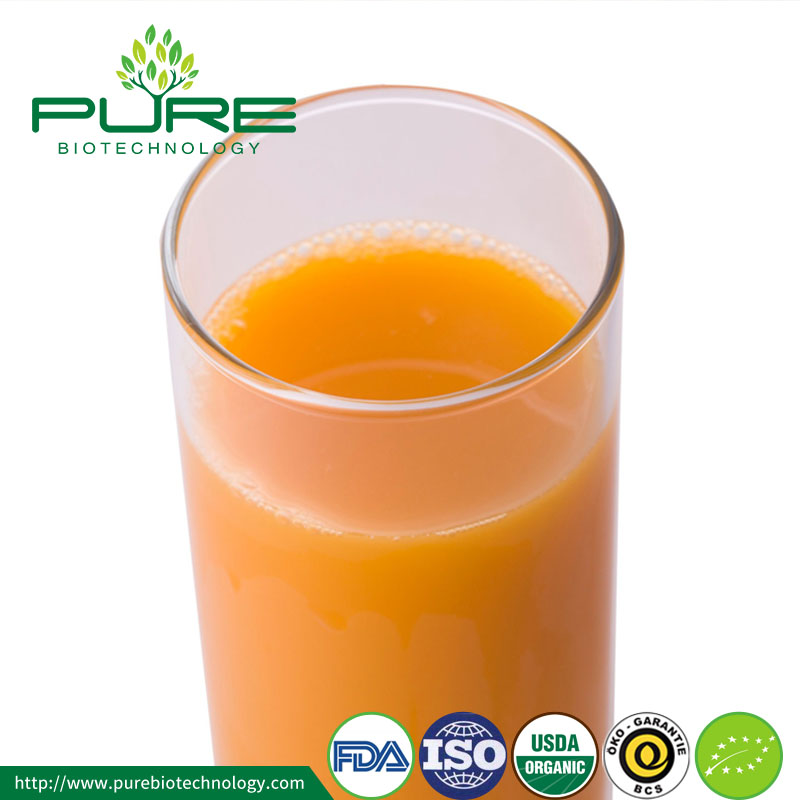 About our 100% Organic Sea Buckthorn Berry Juice:
Botanical source: Hippophae rhamnoides L., Sea-Buckthorn, Olivier de Sibérie
Part used: Fruit
Feature: Fresh & Pure (Custom made using cold storage of raw materials)
Appearance: Slightly viscous, opaque brown liquid
Impurity: No visible impurity
Odor & Taste: Intense characteristic,
Soluble solid matter: ≥30.0%
Vitamin C: ≥1800mg/100g
Total acids (citric acid %): ≥8.0%
Heavy metals
Pb; ≤2.0ppm
As:≤1.0ppm
Hg: ≤0.5ppm
Cd: ≤1.5ppm

Health Benefits of Organic Sea Buckthorn juice:
1.Treats gastrointestinal disorders including ulcers
2.Reverses gout
3.Eliminates skin rashes
4.Cures infections
5.Improves sight, lessens eye soreness
6.Promotes colon health
7.Contributes to proper brain and nervous system functioning
8.Reduces inflammatory response in the body
9.Improves mental clarity
10.Treats asthmatic symptoms
11.Reduces skin markings associated with measles or mumps
12.Reduces illness associated with cancer
13.Lowers cholesterol
14.Boosts lymphatic circulation and immunity
15.Reduces hunger (due to Omega 7s)
16.Improves the look of skin and hair (also due to Omega 7, 3, 6, and 9s)
17.Neutralizes free radicals in the body
18.Slows the aging process
19.Supports internal organs
20.Boost health of the mucous membranes lining the digestive and respiratory tracts
21.Supports urogential system
22.Reduces the condition of a fatty liver
23.Helps to increase cellular vitality

Nutrition of Organic Sea Buckthorn juice:
The relatively recent interest in sea buckthorn production is due to the fact that the berries are among the most nutritious and vitamin-rich fruits found. The berry can contain up to ten different vitamins as well as trace elements, fruit acid, sugar and oil. Sea buckthorn is rich in proteins, and contains up to 18 amino acids. There are over 24 chemical elements present in the juice, including calcium, iron, and manganese.

Vitamin C concentrations in the berry pulp vary from 100 milligrams (mg)/100 g of berries, to 2500 mg/100 g of berries for the Chinese subspecies sinensis. Comparatively, orange juice contains about 35-40 mg/100 g of fruit. The carotene content ranges from 30 to 40 mg/100 g of berries and the carotenoid levels range from 9 to 35 mg/100 g of berries. Sea buckthorn is also high in flavonoids, in the range of 120-2100 mg/100 g of berries, and contains significant levels of water soluble vitamins.

Looking for ideal Organic Sea Buckthorn Juice Puree Manufacturer & supplier ? We have a wide selection at great prices to help you get creative. All the Hot Sale Organic Sea Buckthorn Juice are quality guaranteed. We are China Origin Factory of Sea Buckthorn Juice Puree. If you have any question, please feel free to contact us.
Product Categories : Organic Food Ingredients > Organic Sea Buckthorn Juice