According to the theories of traditional Chinese medicine, the goji berry is full of treasures. Its tender shoot in spring , purple flower in summer,the fruits in autumn and the root underground throughout the year,are all functional.
Picking goji berry leaves in spring , named tianjingcao.
Collecting flowers in summer, named changshengcao.
Picking berries in autumn , named goji seed.
Collecting roots in winter, named dipigu.


The goji berry sprouts in May, flowers during June and July; harvest fruits from July to Oct. The new fruits can be delivered from Aug or Sep. each year.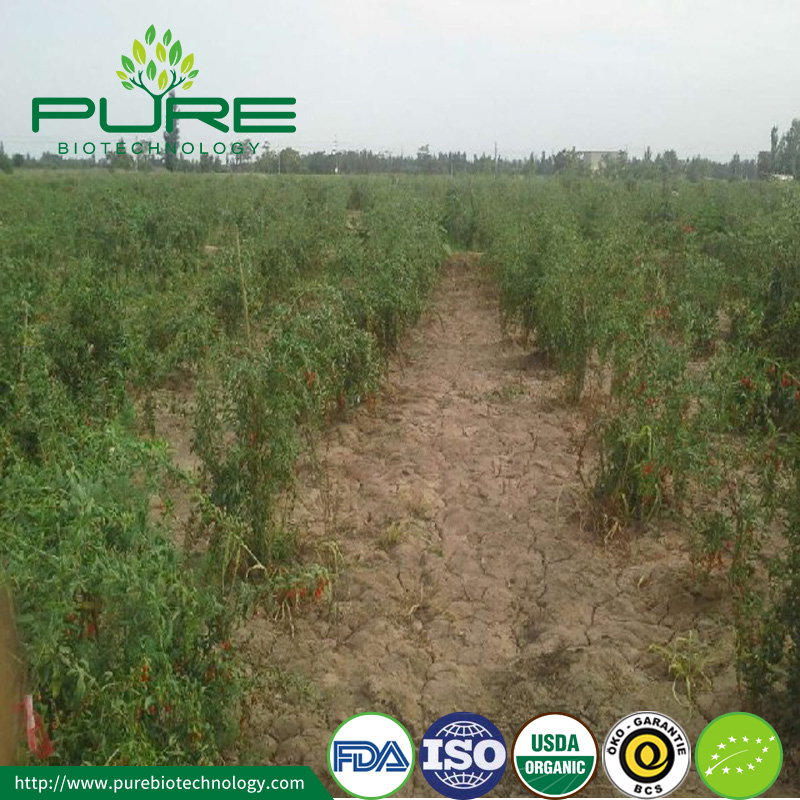 2) NUTRITION AND FUNCTION:
The function is according to the theories of traditional Chinese medicine.
Nourishing liver and kidney, replenishing vital essence to improve eyesight.
Treating some symptoms :vital essence losing, waist and knee ache, dizziness and tinnitus.
, The nutrients of goji berry are mainly goji fruits which containing LBP (lycium barbarum polysaccharides) betaine, atropine, hyoscyamus; zeaxanthine, physalein, kryptoxanthin, scopoletin,carotene, riboflavin, niacin, vitamine B1,B2 and C. The seed contains amino acid: aspartic acid, proline,alanine, leucine etc.
LBP (lycium barbarum polysaccharides) can improve immunity,restrain cancer cell growing, anti-aging, anti-fatigue.
Betaine can control tumor growth, reduce blood press, peptic ulcer, gastrointestinal dysfunction , hepatic disease.
Atropine can relieve smooth muscle spasm, inhibit glandular secretion, antishock, antiarrhythmic, treat organophosphorus poisoning.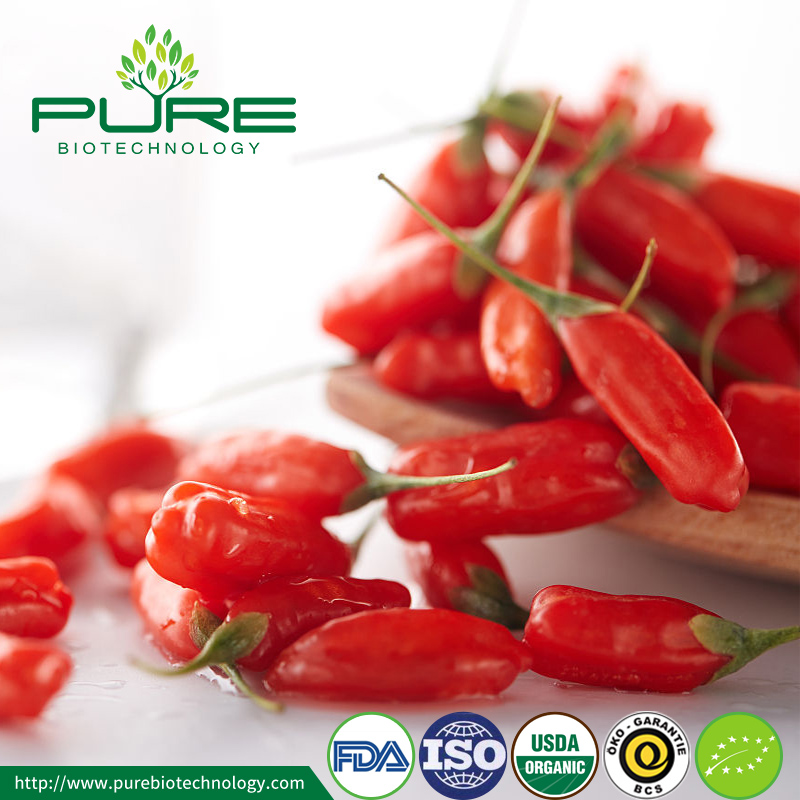 3) QUALITY STANDARD REFERENCE:
1. Appearance quality: color, moisture, taste and odor
Color: The normal goji berry is dark red ,not red or black red. The red one shall be dyed or fumed by sulphur. That`s destructive process to the goji berry and harmful to people`s health.
The black red goji berry lost its original color due to affectting with damp or dried in the sun.But the nutrition and function was not reduced.
There are two reason for the black dots on the berries:
one is when the berries are mature,they can't be caught by too much rain,especially when air –dried . The more times Fresh fruit is drenched with the rain, the goji color will be more dark. .Goji berry is drenched with the rain when air-dried , it will become more dark and will have a lot of black spots .
The other reason is when goji berry is ripe too much , it will be appear black red color or black dots after air-dried.
Odor and taste: normal dried goji berry should not have strange smell, must implement clear if there is a smell.
Taste : according to different planting areas , kinds of dried goji berry is different, the taste is also different. But one thing, there shouldn`t have strange taste, such as the tip of the tongue pins and needles when dried goji berry is put into the mouth, and other discomfortable.
Moisture: dried goji berry which exported generally can`t especially increase moisture. Because the excess moisture will affect the quality of the dried goji berry in the long-distance transportation .If too much water, for example, combined with the right temperature will cause the dried goji berry fermentation, etc.

2.Impurities: existing impurities foreign goods, there are two aspects, one is in the process of picking because few picking workers don't seriously, goji leaf, immature medlar and trunk will be total picked together.Another is foreign bodies in the factory process of goji berry, etc.


4) ORGANIN GOJI BERRY PLANTING

Preparation for planting:
After choosing non-polluted environment, and waste land without any plant, send application to organic authority for organic test.Begin to plant after passing test from Organic authority. Starting from transplanting 1-2years old young goji berry trees, there`s will come to high yield time from 4 years old trees.And yield will come to recession time for more than 10years old trees.
The goji berry trees flower after mid-May( different places different climates and there`s two weeks time difference)
The goji berries are ripe in July. The first ripe berries will be collected from mid-July in warmer places.Qinghai berries will be collected from end July. And the berries will be collected every four weeks till Oct frost.The berries can be collected 5times in warmer places and 3 times in colder places.
To assure the berries up to the organic standard, weeding and collecting are all manual work.
The pesticide used during the berry growing is organic standard of biological medicine, certified by the organic authority and produced by the certified factory.
The trees, soil and water will be strictly tested according to the requirement of the organic authority. We inspected all berries and control the yields according to organic standard. We donn`t do any fraudulent commercial activity. There are 463 items for our organic test.


5) RECOMMENED EDIBLE METHOD:
To obtain best nutrition and function, we recommend the simplest edible method: 15g berry each time ,immersed in 60-70℃ warm water for 20 minutes.Then drink the water and eat the berries.One glass morning and evening.Your health appeared obvious change after taking for 10 consecutive days and you are full of energy.
When drinking tea, you may immersed the goji berry in the boiled water for 15 minutes. And using the hot goji berry water to make tea.
You can eat the goji berry directly and you can eat more than the quantity you immersed in the water.
You may put the goji berry in while making soup. Put the berries in the soup 15 minutyes before the soup is finished. For the high sugar goji berry cannot be cooked in the high temperature for long time and it will lose the nutrition and function.

6) PRESERVATION METHOD
Packaging: 100g, 150g, 250g, 500g, 5kg, 10kg aluminum foil bag; 10KG or 20KG Carton
Storage: Store in sealed containers at cool & dry place. Protect from light, moisture and pest infestation.
Shelf life: 24 months when properly stored.
Prevent the berries from dampness and light after opening the packing.If the berries are affected with damp the function will be reduced. And if being basked in the sun the color will changed dark but function will not be reduced.
While opening the packing, better put the dried berries in the refrigerator to prevent from the damp and light.
The processing environment should be kept dry and finish processing within the shortest time.Using the moisture proof, thickening and light insulating packing materials, try to prevent the berries from damp and light.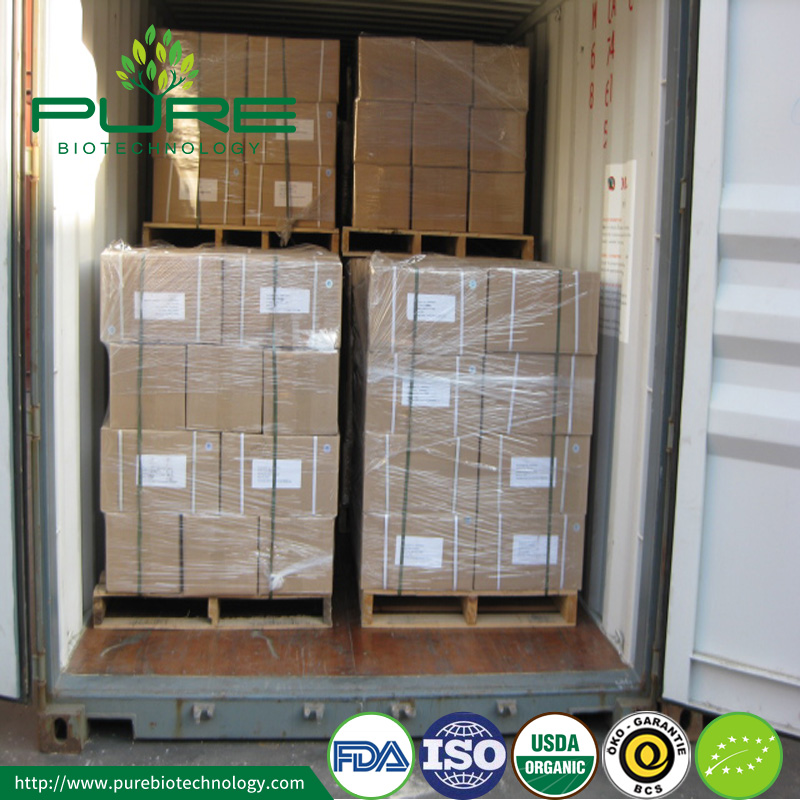 Looking for ideal Quality Organic Dried Goji Berries Manufacturer & supplier ? We have a wide selection at great prices to help you get creative. All the Buy Organic Dried Goji Berries are quality guaranteed. We are China Origin Factory of Organic Dried Goji Berries for Sale. If you have any question, please feel free to contact us.
Product Categories : Organic Food Ingredients > Organic Goji Berry