Buy Grade B 380 /280 size Goji Berry
Grade A/B goji berry have been used as a medicinal and food plant in China for 1700 years.The plant is indigenous to the continent of Asia.Goji berries are a common fruit of the people who inhabit this part of the world. These berries when ingested by humans have been proven to have many wonderful health advantages, some of which include the prevention of eye disorders, cancer preventative qualities and longevity of life.
In China, goji berries are eaten raw or dried, juiced, in wines, or cooked into herbal teas. The oblong reddish-orange fruits possess a light sweetness, and when dried they are the size of raisins. According to traditional use, goji berries are useful for enhancing the health of the liver, kidneys and lungs. They are consumed to improved immune function, boost blood circulation, and improve sperm production.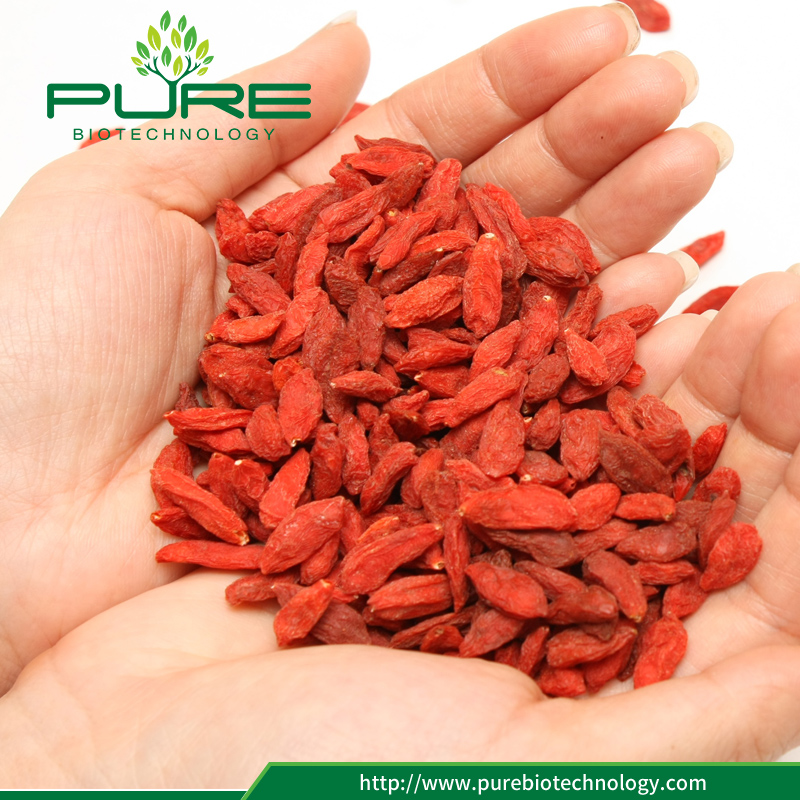 Red Grade A/B Goji berries:
1) Support eye health and improve your vision.
2) Support healthy liver function.
3) Support normal kidney function.
4) Maintain healthy blood pressure.
5) Reduce cholesterol.
6) Make you feel and look younger.

Grade: Conventional(Grade A); Low Pesticide; Organic; Conventional Grade B; Organic Grade B
size: 180,220,250,280,350,380,500,600,700,800Grains/50G
Moisture Content:11%-13%
Sugar: 37%-40%
Shel Life: 24 months
Packing: Common Package: 5kg/bag; 20kg/carton
Small Package: 100g/bag; 200g/bag; 250g/bag; 500g/bag; 1kg/bag
Storage Condition: Keep in Dry and Cool Place


How to enjoy Grade A/B Goji Berry?
The daily dosage of goji berries depends on the age and health of each individual.For a person who does not have any specific illness, the amount of goji berries taken will depend on the type of usage. Hence, for healthy people the following could be the recommended daily dosage:
1)Chew: Chew 10-15 gram of fruits every morning and evening. In this case a daily dose of 20-40 grams is advisable.
2)Tea: Boil 15-gram wolfberry fruits, make a wolfberry tea and drink it every day. It helps to alleviate the effects of high blood pressure and high blood sugar.Take 6 gram of wolfberry fruits and 6 gram of chrysanthemum (Flos chrysanthemi, L) to make a tea. It helps to alleviate blurry vision.Take 4 or 5 wolfberry fruits, green tea, sugar, raisins, walnuts, date, democarpus langan lour fruit, hawthorn, and ziayphus jujuba mill fruits, to make an eight-ingredients tea (Chinese call it eight treasure tea).
3)Wine: Put 25 gram of wolfberry fruits and some Chinese cooking wine in a bottle or a jar and carefully seal it. It is ready to use after 30 or 60 days. Drink once per day. It helps to alleviate teary eyes.Take 200 gram of wolfberry fruits and 1 liter of Chinese white wine and seal them in a bottle or a jar. Ready to use in 10 days.
4)Stew or steam with meat: Stew pork, beef, chicken or fish, add 15-25 gram of wolfberry fruits 10 minutes before the meat is done. You may steam fish or chicken with wolfberry fruits as well.
5) Rice soup: Take 50 gram of wolfberry fruits and 100 gram of rice and add some sugar to make rice soup.
6) Cereal: Mix 15 gram of wolfberry fruits with cereal to make a healthy breakfast.
7)Bread or muffin: Use wolfberry fruits to make a banana bread or muffins just like raisins. Wolfberry bread provides more nutrients than raisins.

1) 5kg/ Aluminum foil bag *4bags/ctn 1kg/ Aluminum foil bag x20 bags/ctn 500g/bag x 40 bags/ctn.
2) 250g/bag x 80 bags/ctn 100g/bag x 200 bags/ctn.
3) Also can packed in plastic bag, aluminum foils bag, semi- plastic & semi-aluminum, or stand-up bag.

Ningxia Pure Biology Technology Co.,Ltd (PURE Biotechnology) :
1) In the the origin place of goji berries.
2) Have own factory, all of goji are grow in our Planting Base.
3) Have more than 8 years goji berry export experience, and we export goji products to all over the world,include The United States, Germany, France, Britain, Czech, Malaysia, South Africa and other countries
4) Our Dried Goji Berries :
A.Have Full size/grade.
B.Have Good moisture.
C.Have Good color and scent.
D.Have Amazing taste.
E.Best quality,can meet EU,JP,US and other kinds standard.
Looking for ideal Grade B Goji Berry Manufacturer & supplier ? We have a wide selection at great prices to help you get creative. All the Grade B 380 /280 Goji Berry are quality guaranteed. We are China Origin Factory of Lowest Price Grade B Goji Berry. If you have any question, please feel free to contact us.
Product Categories : Chinese Herbs > Goji Berry